An expert at Sydney's Taronga Zoo says a sun bear at a Chinese zoo, which viewers online have claimed was a human in a costume, is real.
The creature also appeared to be waving at visitors.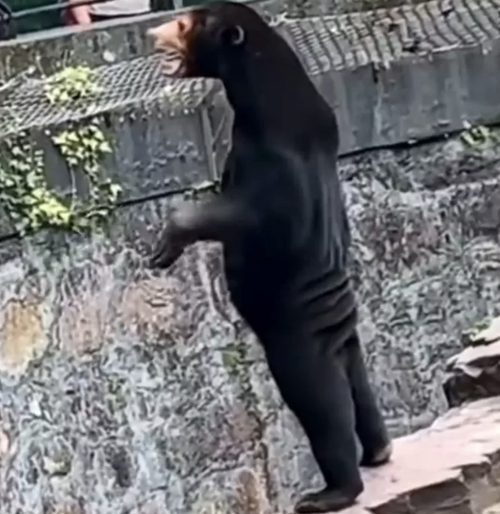 Hangzhou Zoo, located in the capital of
China's
Zhejiang province, denied claims the bear was a human dressed up.
Keeper Logan Dudley, who takes care of sun bear Mary at Sydney's Taronga Zoo, said she's certain the creature seen in the videos is real.
"I don't think it is a person in a costume," Dudley said.
"Our sun bear Mary displays that same behaviour and it is a natural behaviour that is displayed in wild sun bears as well.
"In the wild, sun bears will display the standing up behaviour like we've seen in the video.
"It's behaviour they do to reach food in the trees."
Some bears might be rewarded with food for displaying behaviours such as waving at zoos, she added.
"Sun bears are very smart, she may have cottoned on to this," Dudley said.
She said the saggy skin on their behind is insulation plus is flexible so allows them to twist away from attackers.
Taronga Zoo has also responded to the debate with cheeky social media posts and said there has been an uptick in interest in Mary.
The zoo captioned a Facebook post: "Primates aren't the only ones who can stand two legs."
The zoo also posted footage of Mary making herself a bed, saying she's "putting to be any rumours about her incredible species".
Why are they called sun bears?
A sun bear, also known as a honey bear, Malayan bear, dog bear, Biruang or "basidia ann tingle", meaning "he who sits high", is one of the world's rarest bears.
They're named after the unique shading on their chest which looks like a rising sun.
Standing up to 1.5m tall and weighing up to 80kg, they're a similar size to a human.
But they have long claws which can rip open logs and fend off predators like tigers, leopards and pythons.
Taronga Zoo also had another sun bear – Mr Hobbs, who died in 2021.
He was taken from his mother when she was killed by poachers in Cambodia.
He was rescued by expat businessman John Stevens from a restaurant where he was destined to become food, along with two others.
They were taken to the Free The Bears sanctuary in Phnom Penh and eventually came to Sydney, the zoo said.
Perth Zoo and Canberra's National Zoo and Aquarium also have sun bears.
The bears live for around 25 years and are solitary creatures.
Sadly, thousands of bears are still been captured for their bile and meat in Asia.
They're also losing their habitat, with only around 2500 left in the wild.
Taronga Zoo said visiting helps support conservation projects to try and save them.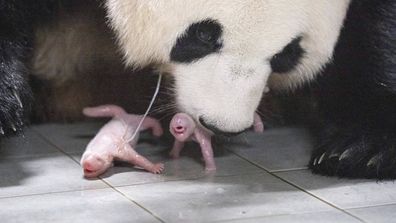 Rare panda birth the 'first ever' for Asian country
Sign up here
to receive our daily newsletters and breaking news alerts, sent straight to your inbox.