It took more than five years for the eagerly awaited summit meeting between the undefeated American welterweights Errol Spence and Terence Crawford to finally come together. Now that it's here, all signs indicate Saturday night's delicious matchup for the undisputed championship in boxing's glamour division will have been worth the wait.
Crawford, a former champion at 135lbs and 140lbs from Omaha, has campaigned in the same weight class as Spence since 2018, when he moved up to capture the WBO's version of the title at 147lbs. By that point Spence, a 2012 US Olympian from the Dallas suburb of DeSoto, was already the IBF's welterweight champion following his clinical dismantling of Kell Brook at Bramall Lane one year earlier, and has since added the WBC and WBA straps.
That means the winner of their scheduled 12-round bout at the T-Mobile Arena on Saturday along the sweltering Las Vegas strip, where the temperatures have tickled above 110F (43C) all week, will become the first man to unify all four major welterweight title belts. He will also stake a credible claim, alongside Japanese terror Naoya Inoue, as the world's best prizefighter at any weight.
But the best fight that boxing can deliver might have never happened at all if Crawford hadn't picked up the phone back in March.
It's rare enough that two boxers at or near the top of the sport's pound-for-pound list compete in the same weight class and rarer still that both are roughly the same age. A summit meeting between Spence and Crawford for all the welterweight marbles has been a no-brainer for years. But Spence is promoted by Premier Boxing Champions while Crawford spent most of his career with Top Rank: rival promotional companies who rarely cross the street to do business with each other.
Just when it seemed like it might be dying on the vine like so many other would-be blockbusters, a path forward emerged when Crawford reached out Spence on Facetime for a half-hour conversation in March to hash out the details. From there it wasn't long before concessions were made, terms were agreed upon and the fight was made. Vegas when it sizzles.
The two-month promotion has been one defined by mutual admiration, a respectful tenor that was on full display at Friday's ceremonial weigh-in when Spence and Crawford made the divisional limit (having stepped on the scale behind closed doors for the Nevada Athletic Commission a few hours earlier) in front of several thousand spectators before coming together for one of the more wholesome staredowns in recent memory.
"You don't have to thank me for making this fight happen," Spence leaned in to say, betraying a wry grin.
"You don't have to thank me either," Crawford said, sealing their bond with a handshake. "We can thank each other. We're going to make history."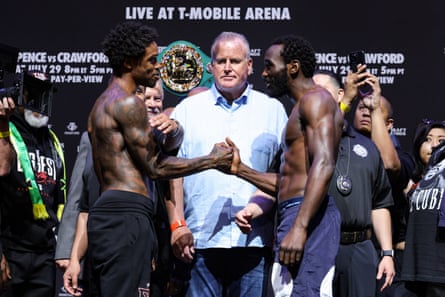 They may well do. Saturday's main event has drawn natural comparisons to the last genuine welterweight superfight between Floyd Mayweather and Manny Pacquiao, another long-gestating showdown which generated more than $600m in revenue while shattering box-office records with 4.6m pay-per-view sales and a $72.2m live gate back in 2015.
Spence and Crawford, whose prospective meeting has commanded the interest of devout boxing fans for years but not managed to penetrate the wider cultural mainstream in the US or abroad, won't come close to those numbers. (At least three of my cab drivers since I touched down on Wednesday didn't even know there was a fight in town this weekend.) For all their accomplishments, not least a combined professional record of 67-0 with 52 knockouts, both men are quiet, laconic personalities who have never been terribly interested in self-marketing, preferring to let their performances speak for themselves. Any spice that has surfaced during an otherwise genial promotion has come from Spence's extended family, who barked incessantly at Crawford from the front rows at Thursday's final press conference as he attempted to get through his brief, boilerplate remarks at the dais.
Stephen Espinoza, the president of sports and event programming at Showtime, the US cable network whose pay-per-view arm is broadcasting the fight domestically at $85 a pop, took a philosophical tack when asked whether the fighters' introverted personalities will hurt the bottom line.
"It's more a reflection of society," Espinoza said on Thursday. "Today's culture, certainly US culture, doesn't reward the quiet, respectful types. It's a lot about who can scream the loudest, who can make the most impact, who can do the most outrageous thing. In this sense, it is a throwback to when guys let their skills, their accomplishments, their résumés speak for themselves.
"I think there are still athletes like that, the Derek Jeters of the world, but they're probably becoming more and more rare. There is genuine emotion here, there's genuine competitiveness, there's genuine rivalry, but there's also a lot of respect, for each other and for the sport."
Fact is, while Mayweather-Pacquiao was finally made with both men past their primes (and with Pacquiao having suffered a devastating knockout loss to Juan Manuel Márquez following a controversial loss to Tim Bradley), the Spence-Crawford affair platforms a pair of future Hall of Famers whose unbeaten records are intact. So who will win?
Spence (28-0, 22 KOs) is the bigger man and probably the harder puncher, who generates pressure with a methodical southpaw jab to set up power shots to the head and body. So effective is the 33-year-old Texan's jab that he's managed to win big fights against top-drawer opponents with that punch alone. There's nothing flashy or complicated about Spence's style: just a dogged commitment to the basics that has broken down every opponent he's faced by discipline and force of will.
Crawford (39-0, 30 KOs) is an adaptable, intelligent operator, dependent on no one attribute, with the instinctive ability to change between southpaw and orthodox stances during his fights. The 35-year-old delivers with equally formidable power and precision from either side, a skill he developed when he fractured his right hand in a school fight as an 11th-grader and persisted at the gym despite the cast. That switch-hitting ability, extraordinarily rare in elite fighters, has been the difference-maker in so many of his wins. A famously ruthless finisher, he's stopped 10 straight opponents inside the distance, including all seven he's faced since moving up to 147lbs.
Many of the insiders polled during fight week have tipped Crawford, whose pure boxing ability has evoked comparisons to Mayweather and Roy Jones Jr. But the fact remains that each man will be in with the best opponent of his career on Saturday night when so much will be at stake. Remarkably, it marks the first time in 37 years that all of the major world welterweight titles will be on the line: when Lloyd Honeyghan stopped Donald Curry in 1986. And to think, all it took was a phone call.
"I feel as if I didn't call him, and me and him wasn't in contact with one another, that the fight wouldn't have happened," Crawford said. "We already seen the blueprint with Mayweather and Pacquiao. I just piggybacked off of something they done when they exchanged numbers at a basketball game. Ali and Fraizer, they were friends. History just repeats itself."