Russian pomp and circumstance greeted 17 leaders of African countries who arrived in St. Petersburg earlier this week. Some delegations were welcomed with a military orchestra, and Zimbabwe's president received a helicopter as a gift from President Vladimir Putin. 
Putin billed Russia's second summit with African leaders and delegates as "a crucial event" to boost ties and partnership for many years to come. For Russia, the event was a battle for influence and allies, and showed how isolated Russia could become in the shadow of its invasion of Ukraine.
"We see the same, reciprocal interest to act together, hand in hand, on the part of our African friends," Putin said. 
International powers have long been attracted to Africa's wealth of raw materials and minerals, such as copper and gold. The war has also renewed global interest in African oil and gas amid sanctions on Russian products.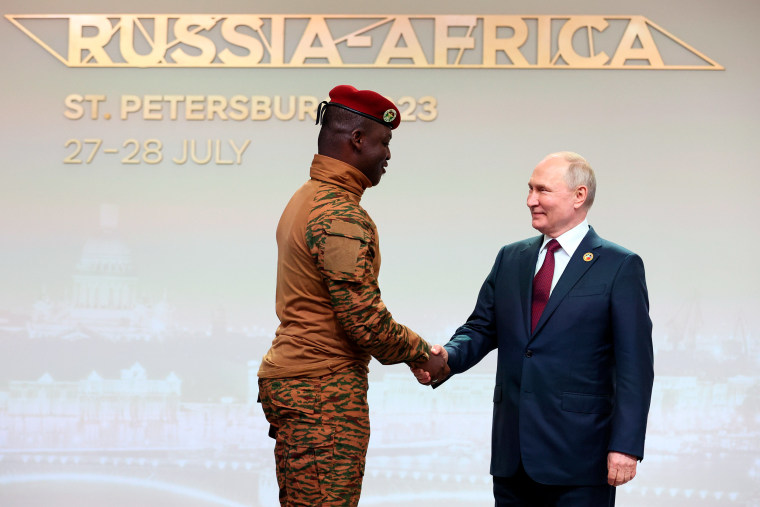 But when Putin and delegation leaders stood side by side for the family photo, there were notable absences. Only 17 heads of state were in attendance, according to Kremlin spokesman Dmitry Peskov, down sharply from the 43 who participated in the first Russia-Africa summit in Sochi in 2019. 
Peskov blamed the West's "absolutely unconcealed brazen interference" for some African leaders' deciding to skip the forum, which ran Thursday and Friday.
While pressure from the U.S., France and other countries may have influenced some leaders' travel plans, geopolitics and economics were also on the agenda. 
Almost a year and a half since Russia's invasion of Ukraine, food insecurity was high on the summit's agenda. Russia's invasion of Ukraine has already triggered sharp rises in the price of food and oil, and exacerbated a global food crisis.
Days earlier, Russia announced it would suspend its participation in the Black Sea Grain Initiative, which allowed food exports to flow from Ukrainian ports, a decision that immediately prompted warnings from international aid agencies about the impact on poorer countries.
Secretary of State Antony Blinken pressed African leaders to demand answers from Russia.
"They know exactly who's to blame for this current situation," Blinken said while on a visit to New Zealand.
Under the Black Sea Grain initiative, 57% of the grain from Ukraine went to Africa and Asia, according to the Joint Coordination Center in Istanbul, making these countries especially vulnerable. 
So it is no surprise that some leaders urged Putin to revive the grain deal. 
"I am not looking forward to a compromised solution when it comes to the grain deal," Egyptian President Abdel Fattah el-Sisi told Putin on Friday. "We want one that takes into consideration the needs and benefits of all sides that could stop the continuous climb of the price of grain."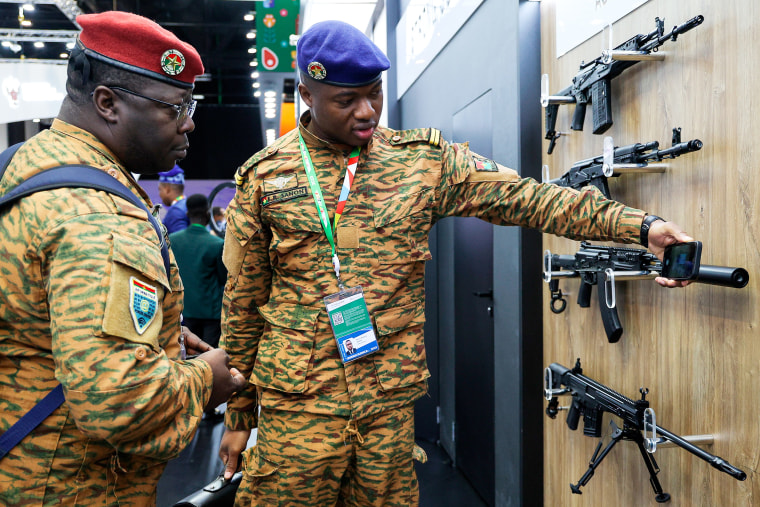 In the summit's opening session, Putin announced he would give around 27,000 to 52,000 tons of grain in the next several months to six African nations: Burkina Faso, Mali, Zimbabwe, Somalia, the Central African Republic and Eritrea. 
He said Western sanctions imposed over the war prevented Russia from supplying fertilizers.
Despite Putin's promise to deliver grain, some African leaders made it clear the war's ramifications couldn't be ignored.
"It is important but maybe not enough," Azali Assoumani, president of the Union of Comoros and chair of the African Union, said Friday near the end of the summit. "We need to achieve a cease-fire. Because it is always something unpredictable. And the longer [the war] is, the more unpredictable it becomes."
Divided
African leaders have been divided in their response to the war. 
Fifteen African countries abstained from voting on a March 2022 United Nations resolution condemning Russia's invasion of Ukraine, while two nations voted against the resolution. Experts said their neutral stance stemmed partially from Russia's involvement during the Cold War, when the Soviet Union provided funding and military support for several liberation movements, a point that was repeated by several leaders throughout the summit.
Russia's support during Africa's anti-colonial struggles also bolstered political ties with some African nations. Russian and African leaders signed a declaration on the last day of the summit, agreeing to cooperate in seeking compensation for damages caused by colonialism, and the return of cultural artifacts. 
"While [African countries] want to guard their sovereignty, they do not want to choose sides," said Mvemba Phezo Dizolele, director of the Africa Program at the Center for Strategic and International Studies. "They don't want to continue fighting on behalf of Russia either." 
At the 2019 summit, Putin sought to rekindle relations established during the Cold War and pledged to double trade with African countries to $40 billion in five years. Today, trade has stalled at $18 billion, and Russia is nowhere near one of the continent's top trade partners, according to the International Monetary Fund.
Ovigwe Eguegu, a policy analyst for Development Reimagined, said Russia relied heavily on political rhetoric to counter Western influence, rather than economic might.
"Russia thrives in places where there's an opportunity to grow in places with two components: where there is a failing state and where there is some form of disappointment or dissatisfaction with Western solutions," he said. "The challenge with Russia-Africa relations is that [Russia] cannot compete on investment. It cannot compete on big infrastructure. So Russia's strength is really in political relationships."
The summit also put pressure on Russia to gain influence amid competing global interest in Africa, particularly from the U.S. and China. The U.S. hosted its own Africa summit last year, with Biden telling leaders the U.S. was "all in" on Africa's future. China is a dominant source of aid and investment across the continent.
"This is the real game. You are in a geopolitical competition, and with Africa, everything is up for grabs," Eguegu said.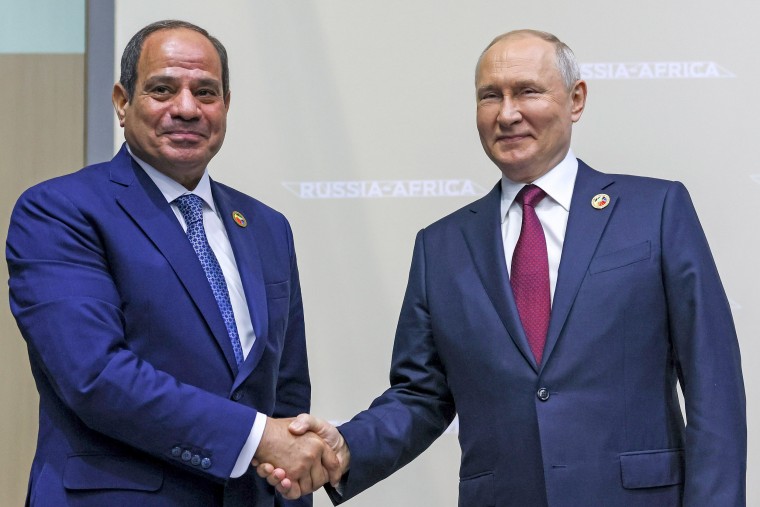 But leaders at the summit said they wanted a bigger seat at the table. The continent's 54 countries make up the largest voting bloc at the United Nations, and leaders increased their calls for the African Union to become a permanent member of the group of 20 leading rich and industrial nations. They also pressed Putin to move ahead with a peace plan proposed last month to end the war in Ukraine. 
As Russia competes alongside other major powers for influence, experts said Africa was making it clear it wanted to be an independent geopolitical force.
"Africans are not interested in being caught in this new wave of power competition," said Dizolele. "Africans are interested in the simple question: who brings what to the table."
Camille Behnke
Camille Behnke is duty producer for NBC News based in London.