One of the most subversive and original figures in 1980s popular culture was a whey-faced, cherry-lipped, matchstick-thin child-man who wore a red bow tie, white tasselled loafers and a shrunken grey suit, and lived in a giant playhouse with sentient furniture and a floating head. This was Pee-wee Herman, created and played by the actor Paul Reubens, who has died aged 70 of cancer.
The character appeared on stage in The Pee-wee Herman Show during the early 1980s but did not become known internationally until the release of the film Pee-wee's Big Adventure (1985), which marked the doolally debut of the director Tim Burton. US cinema in the Reagan era drew heavily on the iconography of the 50s and early 60s, whether for purposes sweet (Back to the Future, Peggy Sue Got Married) or unsavoury (Blue Velvet, Parents); this big-screen outing for Pee-wee, who was already suffused with the spirit of bygone children's shows such as Howdy Doody and Captain Kangaroo, fell somewhere in between. As with the stage and TV incarnations, the film's undercurrent of kinkiness and innuendo never contaminated its air of gleeful innocence.
In a story modelled on the Italian neo-realist classic Bicycle Thieves, Pee-wee travels across the US in search of his beloved stolen bike. Along the way, he meets the undead truck driver Large Marge, poses as the wife of a convict, charms a gang of snarling bikers by dancing on the bar in platform heels, rescues the occupants of a burning pet shop (saving the snakes for last because he's scared of them) and ends up at the premiere of a Hollywood movie about himself.
Pee-wee's nasal voice and honking laugh seemed cultivated to irritate every bit as much as his playground rejoinders (such as "I know you are, but what am I?" repeated ad infinitum). But Reubens's single-minded focus on playing him utterly straight – if that's not the wrong word for a character steeped in camp – was vital to his success, which ballooned with the children's TV show Pee-wee's Playhouse (1986-90).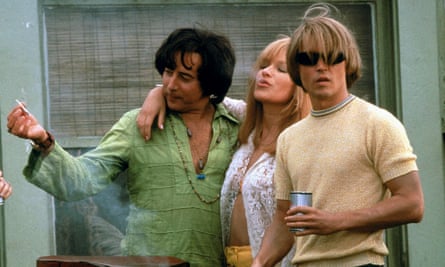 "We never tried to do 'a-kids'-show-but-weird,'" he said in 2014. "I feel like my commitment to Pee-wee, the concentration required to stay in that character, makes it real to me.
"It's a throwback and has lots of homage elements to it, but I always considered it a full-on real kids' show even though it had all this adult humour in it. I took a lot of pride in being able to figure out ways to do stuff that could be seen by kids and grownups."
Pee-wee's Playhouse pushed the surrealism of the film even further. In one episode, Pee-wee marries a bowl of fruit salad, which is wearing a wedding veil. Years later, the scene was held up as an example of the character's progressiveness, though in truth it would be a challenge to find a moment from Pee-wee's oeuvre that did not serve that function.
Whether filling his 1988 Christmas special with LGBT+ performers and allies such as Grace Jones, kd lang, Cher and Little Richard, or hiring strapping, shirtless construction workers to build an extension made of fruitcake on the side of his playhouse, Pee-wee personified queerness without frightening the horses. One of the show's messages, said Reubens, was that "nonconformity isn't bad".
Bumps in the road arrived in the form of a lacklustre film sequel, Big Top Pee-wee (1988), and two scandals: the first in 1991 when Reubens was arrested and fined for masturbating in an adult cinema, and then in 2002 when a police search of his collection of vintage erotica resulted in a misdemeanour charge for possession of child pornography, later reduced to probation for possession of obscene material.
He was born in Peekskill, New York, to Judy (nee Rosen), a teacher, and Milton Rubenfeld, a former founding pilot of the Israeli air force, who went on to sell cars and to own a lamp store. When Reubens was nine, the family moved to Sarasota, Florida. He was educated at Sarasota high school and Boston University, and studied acting at the California Institute of the Arts, where his classmates included David Hasselhoff.
He became a regular fixture on the comedy club circuit, and appeared 14 times on The Gong Show, the competitive TV variety series. "You could go on more than once if you were in disguise," Reubens explained; he acquired membership of the Screen Actors Guild after winning the contest.
It was as part of the Los Angeles improvisational comedy group the Groundlings that he first developed Pee-wee Herman. He also went on The Dating Game (known to UK audiences as Blind Date) as Pee-wee, having filled out the application form and auditioned entirely in character.
After failing an audition for the 1980-81 season of Saturday Night Live, Reubens borrowed $5,000 from his parents to produce The Pee-wee Herman Show. It ran for five months in Los Angeles, later touring the US, and led to a one-off HBO special as well as absurdist turns on Late Night with David Letterman, during which Reubens never broke character.
"I always felt it was conceptual art, but no one knew that except me," he said. "I went out of my way to make people feel Pee-wee was a real person. It worked way better if people were going: 'Who the hell is that?'"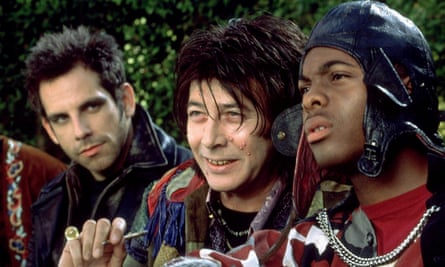 His non-Pee-wee appearances were largely restricted to the years after Pee-wee's Playhouse ended in 1990. Burton gave him a cameo as the Penguin's father in Batman Returns, and he played a vampire in the original film version of Buffy the Vampire Slayer (both 1992).
He starred in the family comedies Dunston Checks In and Matilda (both 1996) and played a flatulent superhero in the comedy Mystery Men (1999) as well as a pot-dealing hairdresser in the crime drama Blow (2001). Most of his subsequent roles took the form of animation voice-work or eccentric guest spots on sitcoms, such as 30 Rock (2007) and What We Do in the Shadows (2019).
Pee-wee's periodic returns were always greeted with affection. A new version of The Pee-wee Herman Show, which reached the stage in 2010, and the delightful, Judd Apatow-produced Netflix film Pee-wee's Big Holiday (2016), gave Reubens a chance to repair definitively any lingering damage done by his arrests.
"I wrecked it to some degree, you know?" he told the New York Times. "It got made into something different. The shine got taken off it. At a certain point, I just wanted to have a better end to my career."
He is survived by his sister, Abby, and brother, Luke.