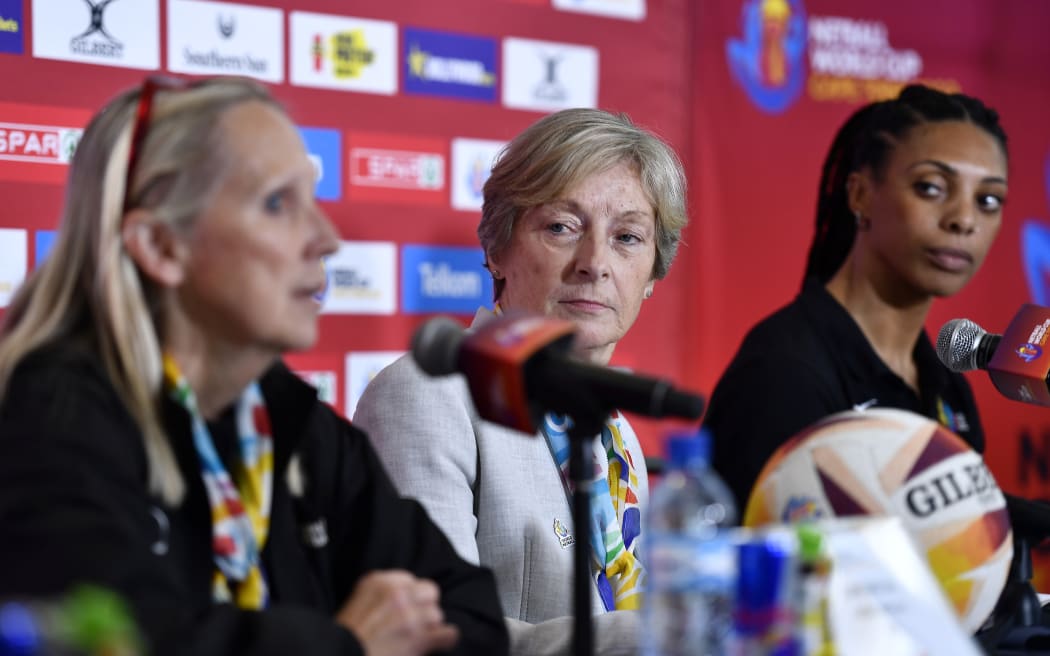 CEO Clare Briegal (left) President Dame Liz Nicholl (middle) during the World Netball Press Conference at Cape Town International Convention Centre.
Photo: Ashley Vlotman
When the president of World Netball described the sport as being rich in people resource and poor in financial resource at a press conference in Cape Town, truer words had never been spoken.
There was an army of enthusiastic local volunteers at the World Cup and it was obvious it was a source of great pride to be hosting the cup on African soil for the first time.
But the World Cup also highlighted the missed opportunities in the sport because of a lack of funding and poor governance.
Unfortunately netball is not blessed with an abundance of well-run national bodies.
There have been reports in South Africa media that accuse Netball South Africa president Cecilia Molokwane of mismanagement and interference.
She possesses an outrageously over inflated ego and describes herself as 'the chosen one'.
In the lead up to the World Cup Molokwane took the trophy on a tour of South Africa, which must have come at great expense to Netball South Africa as she flew into different provinces.
Apparently she told people she was the only one who could 'touch' the trophy.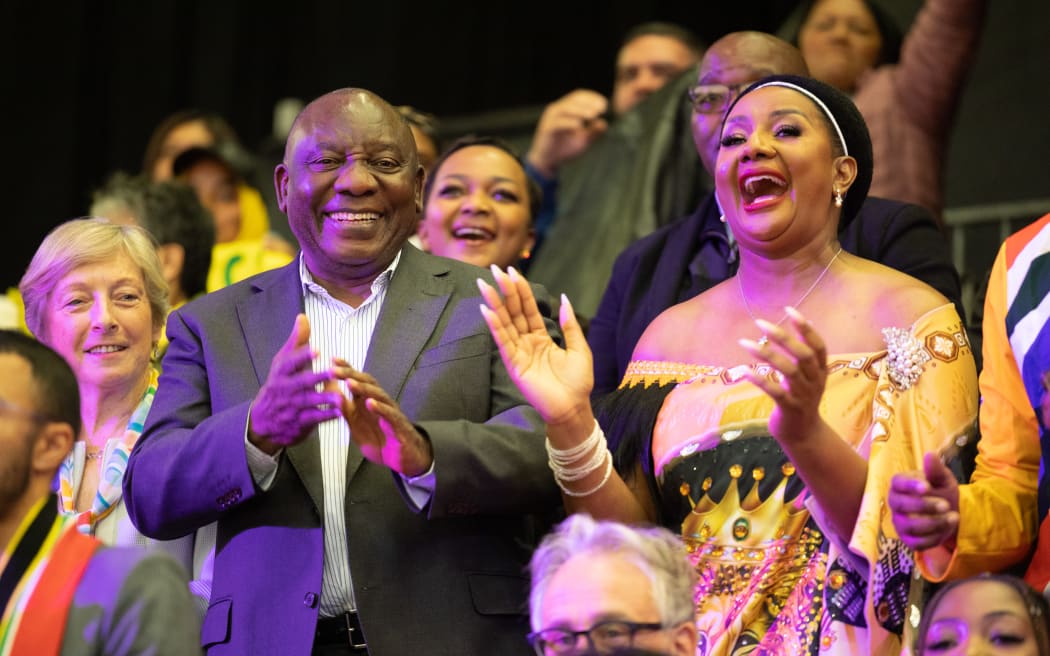 CAPE TOWN, SOUTH AFRICA – AUGUST 06: President Cyril Ramaphosa and Cecilia Molokwane (Netball SA President) during the Netball World Cup 2023. (Photo by Misha Jordaan/Gallo Images/Netball World Cup 2023)
Photo: Misha Jordaan
In May, the Uganda Netball Federation president was charged with obtaining money by false pretence.
During the tournament Malawi had a very public spat when players posted a video blaming star shooter Mwai Kumwenda for not taking the court when the coach asked her to.
It prompted a phone call from the president of Malawi urging the team resolve their differences.
Some of the African sides that competed come from the poorest nations on the planet.
Nothing demonstrated that more when in the lead up to the tournament the Zimbabwe Gems were presented sanitary wear to ensure that their needs were taken care of.
The fact that those countries perform so well when they are on court despite everything is quite remarkable and a credit to the players.
Competition from other codes
There isn't a sense of urgency at World Netball about the growing competition from sports like rugby, football, and cricket who are cross-subsidizing their female codes.
The President of World Netball Dame Liz Nicholl and the CEO Clare Briegal gave a briefing to media in Cape Town.
Liz Nicholl said netball was created by women for women and girls when very little opportunities existed.
"So I'm encouraging the netball community to celebrate the growth of women's sport and the support that women's sport is getting from those major governing bodies now," Nicholl said.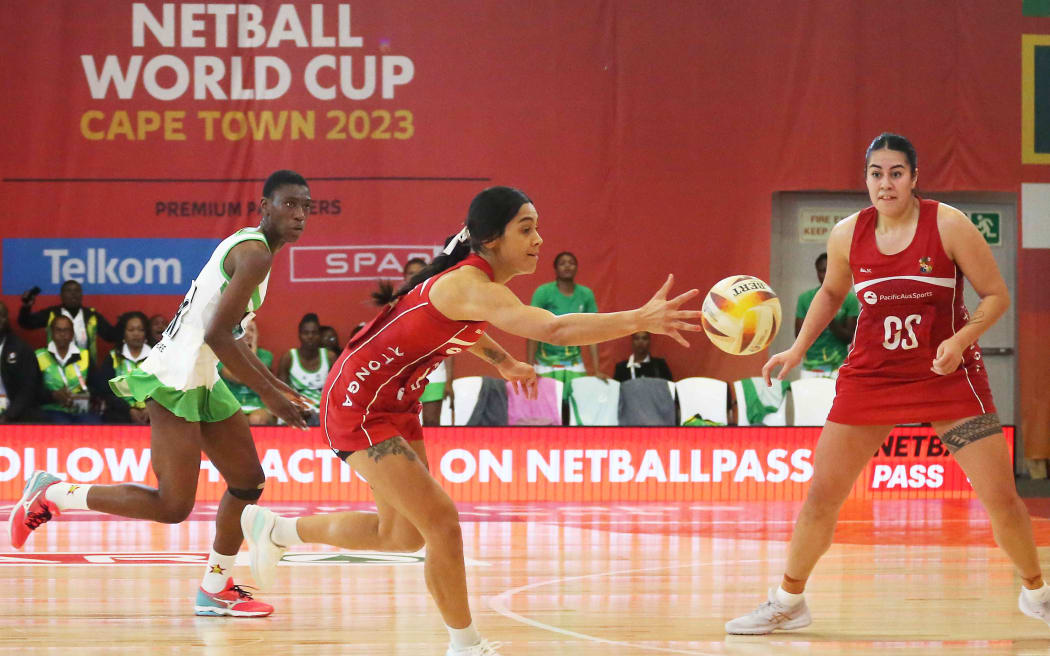 Hulita Veve of Tonga pass to Uneeq Palavi during the Netball World Cup 2023 Pool A match between Tonga and Zimbabwe at CTICC Court 2 on July 30, 2023 in Cape Town, South Africa.
Photo: Shaun Roy/Gallo Images
"I don't see it personally as a threat. I think there's room for those opportunities for young women and girls across all of those sports.
"I'm confident that a significant number will continue to choose netball because of our values as a sport and the culture.
"We are still growing as a governing body, we're growing within nations and we're growing in the number of nations so there are no indications at this point in time that it is a threat."
Nicholl said netball continued to empower women and pointed to the all-women broadcasting crew, believed to be a first at a major global sport event.
Raising the profile
World Netball held a Congress meeting before the World Cup to discuss their strategic focus for the next four years.
Nicholl said the international body will be looking at whether it could introduce more events to raise the profile of the sport.
She said the World Cup in Cape Town had already done that.
"This World Cup has the best combination ever of sponsorship and international broadcast sales."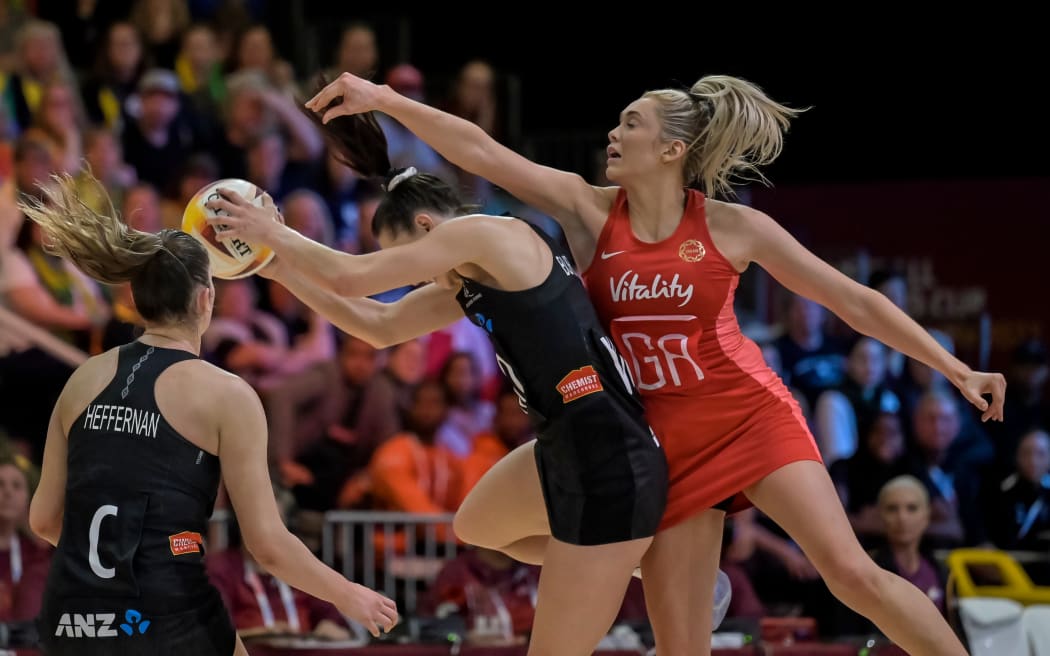 Helen Housby of England during the 2023 Netball World Cup semifinal game between England and New Zealand at CTICC in Cape Town, South Africa on 5 August 2023
© Christiaan Kotze/BackpagePix
Photo: BackpagePix
No consideration has been giving to holding the World Cup more regularly in light of doubt over the future of the Commonwealth Games but Nicholl was optimistic the Games would continue and netball would be a part of it.
Briegal said having some games broadcast by the South Africa Broadcasting Corporation free to air made it the most accessible World Cup for fans.
The FIFA women's football World Cup being held in Australia and New Zealand at the same time unfortunately ate into the media attention the Netball World Cup would have normally received.
"We were definitely ahead of FIFA with the dates. It would have been nice if actually they had approached us to consider the opportunity that's missed in some way for both events to have a lot more profile and reach," Nicholl said.
Only three daily news journalists from New Zealand were on the ground in Cape Town covering Aotearoa's most popular female sport.
On the flip-side the amount of journalists who came to cover the event for African outlets was outstanding.
The legacy
You can understand why World Netball went with South Africa's bid to host the World Cup as it tries to grow the game in this part of the world.
Briegal said the tournament would leave a legacy in Africa.
Several new community netball courts have been built in South Africa as a result of hosting the Cup.
"The programme run by Netball South Africa has seen more equipment provided. And the South African government has stepped in and provided more wooden floors so each province will have a new wooden floor.
"Beyond that there will be three wooden floors that will go to other African countries as a result of this event, and that will enable us to take international netball across the continent for the first time."
World Netball has to be creative with the limited funds they have.
The World Cup is an important source of revenue for the host nation and World Netball to refuel the tank.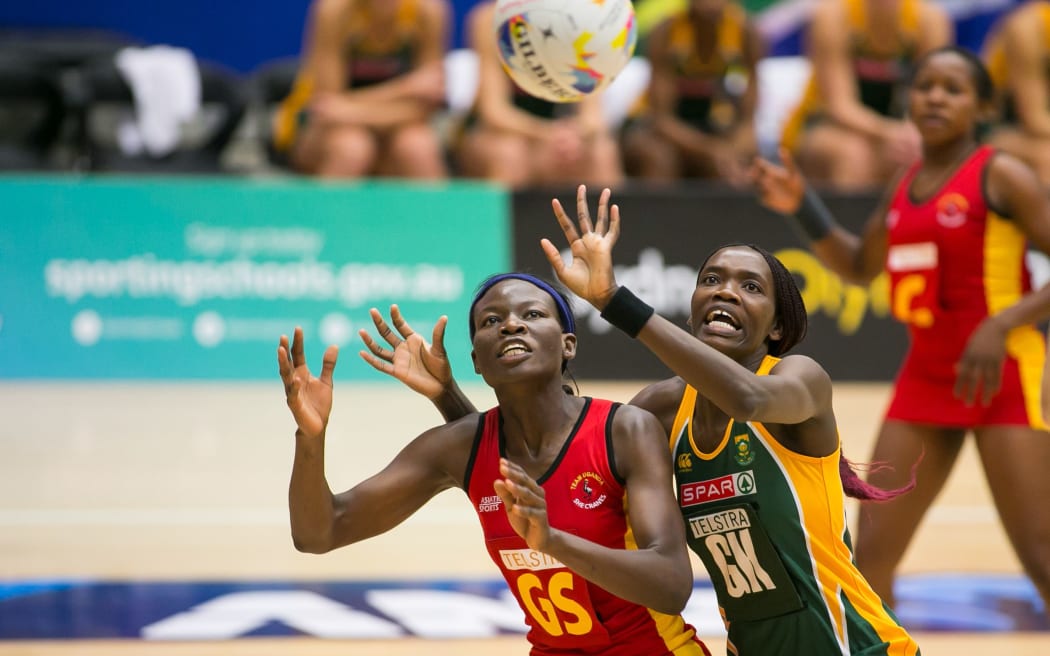 Uganda netball captain Peace Proscovia (L) in a match against South Africa
Photo: Narelle Spangher
Briegal said World Netball redeployed income that came from the World Cup back out to member countries to drive further development.
"But the commercial success of this event means that we can do more than we have done before.
"It's also the governance of the sport making sure that we're helping our members to develop their own commercial skills so they can bring in revenue themselves."
The local organisers did come under fire over various logistical issues.
The price of tickets was criticized as being out of reach of many South Africans in a country that has a shocking unemployment rate of nearly 33 percent.
Many games were played to half empty stadiums.
Briegal said prices were set in conjunction with World Netball and the local organizing committee.
"It's a nuanced process – we help them think about what they are bench marking against, other events …the capacity of the venue, which had to be reconfigured."
There is not a single dedicated netball stadium in South Africa that meets international standards.
Maia Wilson of New Zealand Silver Ferns during the Netball World Cup match between Jamaica and New Zealand at the CTICC in Cape Town, South Africa on Thursday, 03 August 2023
Photo: Mandatory credit: Christiaan Kotze/C&C Photo Agency
Photo: Christiaan Kotze/C&C Photo Agency
Many people showed up to find their seats had been double-booked, with the local ticketing company clearly out of its depth.
So does World Netball need more oversight of these tournaments?
"We do have a responsibility to support our local organizing committees but we also have to trust them to make decisions as well," Briegal said.
Liz Nicholl said seeing firsts like Jamaica beating New Zealand at the Cup was healthy for the sport.
"And I anticipate that it won't be long before you see some of those [African] nations creeping up into the top four places."
You can only hope that every dollar made out of the Cup goes to people who will use it wisely so those African teams have got a fighting chance to do that.