I chose my words carefully when addressing Jordan Henderson on Twitter last week. The thought of him moving to Saudi Arabia didn't feel right from the start but I wanted to comment when the move became official. He supported the fight against homophobia in the past and people feel betrayed by his move to a country where same-sex relationships are illegal and can result in the death penalty. It was not about criticising the people of Saudi Arabia or criticising players for going there. It is their decision and they are free to move wherever they want. But what Henderson has done is contrary to what he has said and makes me believe his allyship was not genuine.
He wanted to support a minority, the LGBTQ+ community, and now he's getting paid by a state that wouldn't even show the captain's armband he wore, because the rainbow symbol might have upset people. That is very difficult for me to understand. He made a conscious decision several years ago to be supportive of the LGBTQ+ community and that was great at the time. It was fantastic to have such a high‑profile player speak up for the community. It is one thing me speaking up – I'm out publicly and feel it's my responsibility to speak up for a community I am part of – but when you have a straight ally such as him it is more powerful because nobody would expect it of him in the first place.
He chose to do it and his support was immense. He was a role model for Liverpool fans and fans around the world. Then comes a financially lucrative offer and he suddenly seems to forget what he stood for in the past. His support just doesn't feel genuine any more. That was part of his brand and, as I said in my tweet, his old brand is dead. He has to reinvent himself as a brand but now there will be question marks over whichever cause he supports. Fair enough, but don't ever stand up for something that is so contrary to the views of the organisation paying your wages. The same goes for David Beckham, who advocated for Qatar at the last World Cup but also wanted to be recognised as a supporter of the LGBTQ+ community. To me, this still is a contradiction.
We have come a long way in the last 10 years since I'm openly gay but you can't take the improvement for granted. It is a constant fight. There is still discrimination around the world and especially in Saudi Arabia, where the legislation is not in favour of openly gay people, to put it mildly. That's why Henderson's move has big significance and is such a big disappointment.
After the criticism he has received other players may think twice about backing the Premier League's rainbow laces campaign or showing their support. It may deter some. In a way that's good. Athletes may understand better now that with allyship comes responsibility. You only want an ally who will be with you through thick and thin.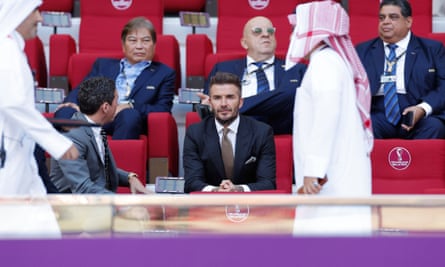 A good example is the Germany team at the last men's World Cup. I learned another lesson there. Pre‑World Cup I had the chance to speak to the team. I thought it was a good opportunity for them to make a statement about what they stand for and what the German FA stands for. But we can't force the players. If they don't all agree that they want to do something like this then it will end up going pear-shaped like it did in Qatar. A player has to do something that he really means and stands for and is willing to accept the consequences for. Unless you are determined to accept those consequences then don't do it – just play football.
I mentioned brand-building. Players are there to play football first and foremost, of course, but because they have such a big global audience nowadays some think they can grow even bigger if they support a good cause like anti-racism, support of migrant workers, the LGBTQ+ community or whatever is out there. But don't do it unless you really mean it.
Some replies to my tweet said anyone would take that amount of money. No, not everyone would. There are people who just would not do it because their values are more important than money. Players can choose what they want for their careers, that's fine. That's always been the case. But players have rejected offers for various reasons and I don't want to think that players always opt for the best financial deal.
Henderson was Liverpool captain, one of the biggest names in English football. He is a fantastic player and I really admire his career. I've never forgotten playing against him for West Ham against Sunderland. He was only 18 or 19 at the time but he was so dominant. He was shouting and swearing a lot, including at his own teammates. I was used to that after all those years in the Premier League but I have seldom seen such a young player so vocal. I remember thinking: "Who is this kid?" I couldn't believe how demanding he was. The guy is a top professional, unbelievable on the pitch, an outstanding career. When people say to me: "Why do you criticise him? He was a much better player than you …" Of course he is a better player than I was. That's not the point.
I want to differentiate. Riyad Mahrez, Karim Benzema and others have gone to Saudi Arabia this summer. It is a global market and players always think they only have a career of 10-15 years and want to make as much money as possible. Unfortunately they don't see there is life after football. It's their choice and I don't criticise it because they have not consciously stood up and said: "We support the LGBTQ+ community." It might sound harsh because if Henderson had never said anything in support of the community he wouldn't be getting criticised as much now. But it was his conscious decision to do so. He had good intentions. But now it seems calculated.