The remnants of Tropical Storm Hilary, a Category 4 hurricane when it was churning in the Pacific before crashing ashore in Mexico, brought record-breaking rainfall to Southern California, flooding roads and causing mudslides and rock slides as it barreled north.
While Hilary was expected to dissipate Monday, forecasters warned rainfall from the storm could cause "life-threatening" flooding across the southwestern U.S. People as far north as Idaho were warned the storm could cause flooding in their areas.
Hilary was downgraded to a tropical storm prior to making landfall over Baja California, Mexico, Sunday before becoming a post-tropical cyclone early Monday morning.
"We are not out of the woods yet," Brian Ferguson, deputy director of the California Governor's Office of Emergency Services, told CBS News on Monday. "The back end of this storm is still impacting us. We could still see mudslides today as that ground gets saturated."
No fatalities from Hilary were reported in the state, said Ferguson, who described the damage to residences and critical infrastructure as "very minimal."
As Hilary was raking across Southern California on Sunday, a 5.1 magnitude earthquake struck near Ojai, northwest of Los Angeles, according to the U.S. Geological Survey. The quake didn't cause any significant injuries or damage, Ferguson said.
"Having multiple, complex, overlapping disasters is something that we've had at multiple times in recent years, and unfortunately our state has had the opportunity to get pretty good at this work," he said.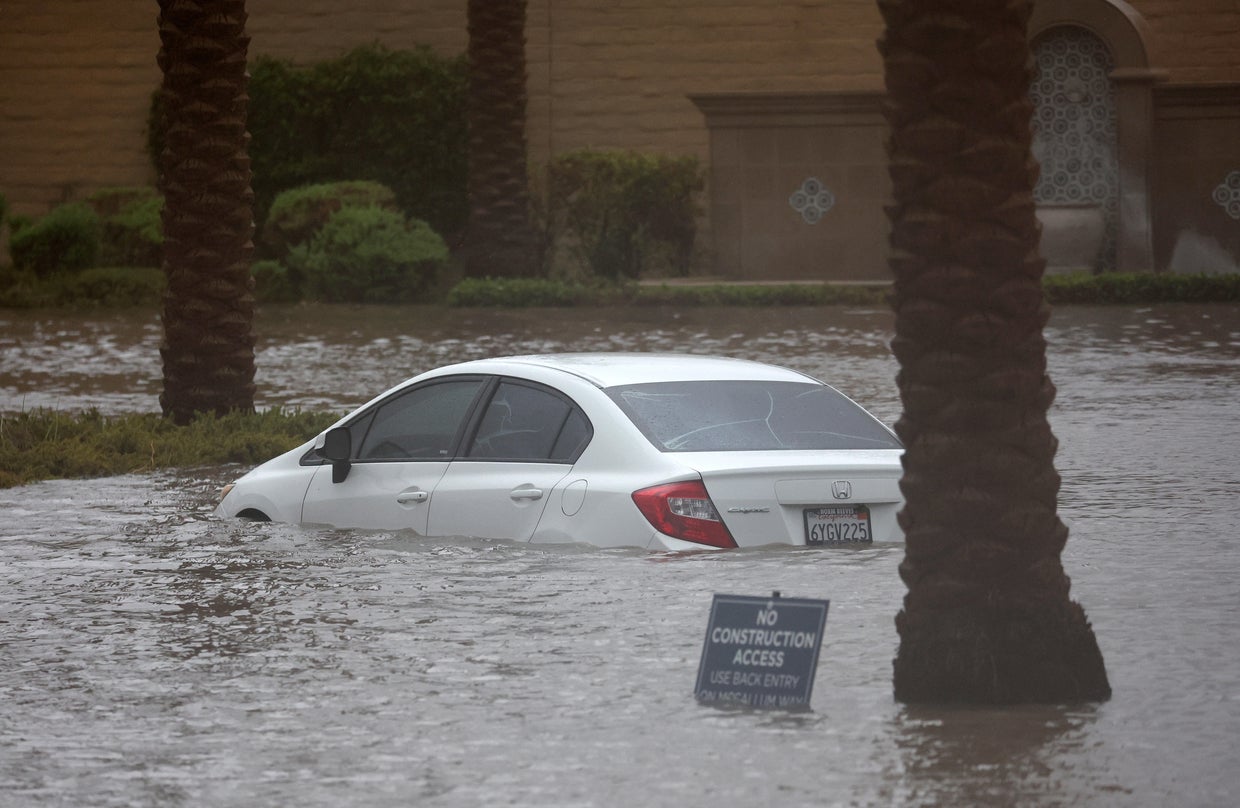 Flooding was impacting many areas and numerous rock and mudslides were reported. The National Weather Service's Los Angeles office said on social media that "virtually all rainfall daily records" for the area were broken as of 3 a.m. PDT Monday.
Hilary was the first tropical storm to hit Southern California in 84 years.
It dumped more than half the average annual rain on some desert and mountain areas, including Palm Springs, which saw nearly 3 inches of rain by Sunday evening. Tens of thousands of people across Southern California had no power due to the storm and Palm Springs lost 911 service Sunday night, CBS News Los Angeles reported. The station said Hilary's outskirts were still lingering over greater Los Angeles and battering some regions with heavy rain early Monday morning.
Where is flooding expected?
The National Weather Service's Weather Prediction Center said flood watches were in effect for Southern California, northwest Arizona, much of Nevada, southwest Utah, eastern Oregon, western and central Idaho and southeast Washington. A flood watch means flooding is possible in those areas.
"Hilary is expected to produce additional rainfall amounts of 1 to 3 inches across portions of southeast California and southern Nevada through Monday, with isolated storm total amounts up to 12 inches," the center said. "Continued flash and urban flooding is expected."
What's more, 1 to 5 inches of rain was expected across portions of Oregon and Idaho through Tuesday morning "resulting in localized, some significant, flash flooding," the center added.
In Nevada, officials remain concerned about dangerous flooding across the western Mojave Desert, which is at high risk for flash flooding, "an exceedingly rare occurrence," the weather service's office in Las Vegas said Sunday on social media.
Southern California was experiencing heavy rain in Los Angeles and surrounding counties, CBS News Los Angeles reported.
Mount Wilson in Angeles National Forest recorded over 8.5 inches of rain as of 7 a.m. PDT, the top amount reported by the weather service's Los Angeles office. Beverly Hills recorded 4.8 inches, and downtown LA recorded nearly 3 inches.
The National Weather Service said Ventura County was experiencing life-threatening flooding and San Bernardino, Riverside and nearby mountains were at high risk of flash floods. San Bernardino and Riverside Counties issued evacuation orders and Orange County issued evacuation warnings.
Among many dramatic scenes playing out as Hilary hit:
How is Southern California dealing with Hilary?
As of 8 a.m. PDT Monday, Hilary was about 115 miles west-northwest of Elko, Nevada, and racing north-northeast at 24 mph with maximum sustained winds of 35 mph.
Although no longer a hurricane, the system was still bringing heavy rainfall to the area.
It was the first time that the National Hurricane Center issued a tropical storm warning for Southern California, and California Gov. Gavin Newsom declared a state of emergency ahead of its arrival.
President Biden on Sunday said he has asked FEMA to deploy personnel and supplies to California. Mr. Biden also said the Coast Guard has pre-positioned aircraft to allow for rapid response and rescue efforts. 
"My Administration also deployed federal personnel to Nevada to ensure the state has additional support, and we will continue to coordinate with California, Nevada, and Arizona on any resources they might need," Mr. Biden said.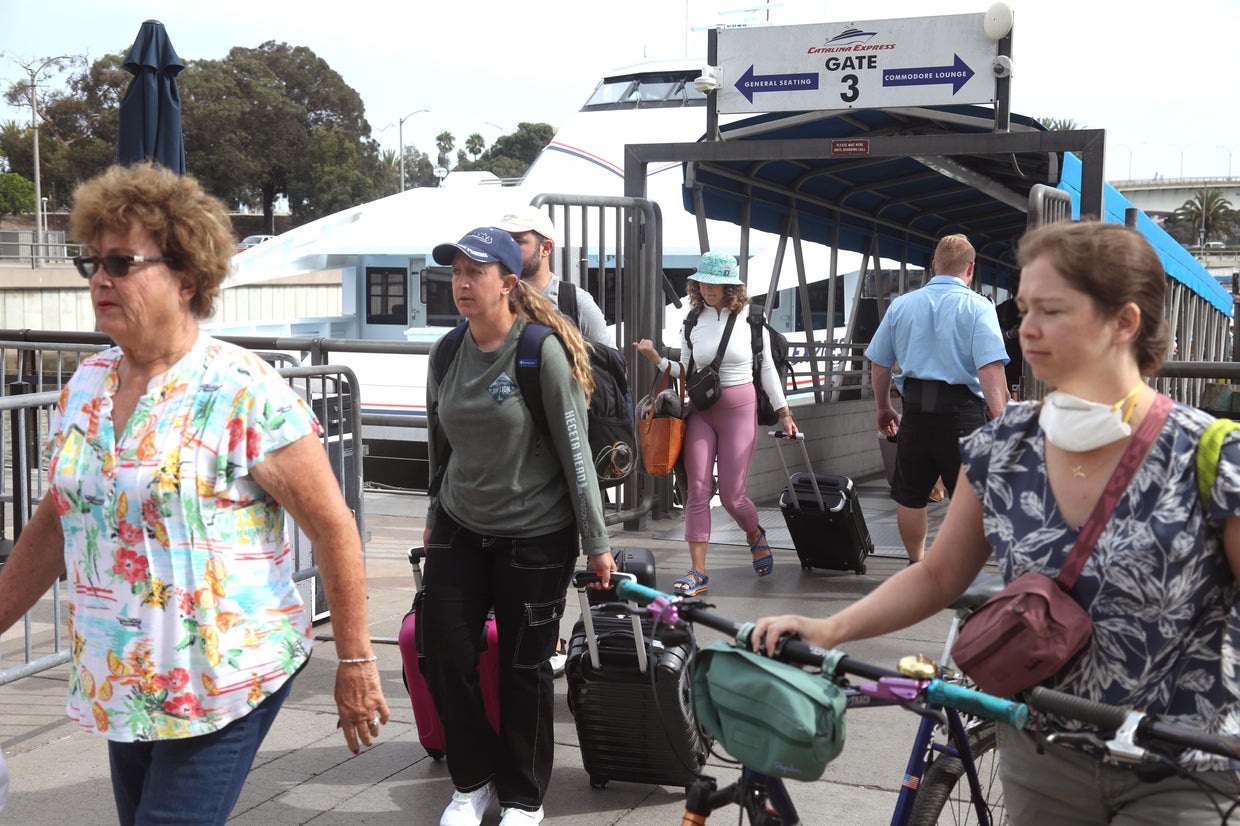 On Sunday evening, Los Angeles Unified School District, the second largest school district in the country, announced all schools, campuses and after-school programs would be closed Monday due to the storm.
"This was not an easy decision," the district said on social media. "Los Angeles Unified acknowledges the unique, unprecedented nature of Tropical Storm Hilary, which has garnered city, county, and state declarations of emergency."
Pasadena Unified School District followed suit later Sunday night. 
The California Department of Parks and Recreation on Saturday ordered a temporary closure of all San Diego and Orange County state beaches and several state parks.  
Disneyland announced Saturday that parks would be closing early Sunday, with Disney California Adventure Park closing at 9 p.m., Disneyland Park closing at 10 p.m. and the Downtown Disney District will close at 11 p.m. 
The San Diego Padres, Los Angeles Dodgers and Los Angeles Angels all moved their scheduled Sunday home games to Saturday double-headers in anticipation of the storm.  
When will Hilary hit Las Vegas?
Nevada will see heavy rain into Monday morning with likely flooding in Las Vegas and "significant flooding" in Death Valley National Park, the Weather Channel reported. 
Nevada Gov. Joe Lombardo declared a state of emergency Sunday afternoon due to the "imminent impact" of Tropical Storm Hilary across the state. "Significant damage to public and private property are likely, including multiple transportation routes," the declaration read. 
That came days after he announced that 100 National Guard troops had been activated ahead of the tropical storm.
-Alex Sundby contributed reporting.