It's -ber once again, so I've asked my fellow Editorial Board members to share their favorite Christmas Songs and consider this as my reaction paper.
The Philippines is one of the most unique countries in the world. Aside from its archipelagic geography, its culture is heavily influenced by many colonizers. Christmas is probably one of the most notable ones when the Spaniards introduced Christianity to the country, with 86% of the Filipino population today identifying as Roman Catholic. 
Christmas in the Philippines is by far the longest holiday celebration in the whole world. When "-ber" months (September, October, November, December) hit up until early January, the entire Philippines will transform into a winter wonderland, full of Christmas decorations, non-stop Christmas songs, and shining and shimmering lights at every corner. Spiderman-vibe isn't it? "Wherever I go, I see you" moment. With no well-known explanation of the historical origin on why the Christmas season is so long in the Philippines, the only closest lead is the explanation of sociologist Bro. Clifford Sorita in a Rappler interview. He said that the most logical and simplest interpretation of the long Christmas season is the Filipinos' psychological framework of counting down to huge events or celebrations.
There are thousands of songs with more covers and other arrangements, here comes the top 10 Christmas Songs of the AMAPS Editorial Board. Let's learn its stories, dig deep to its origin, issues, implications, and milestones.
One of the most classic Christmas songs, Ang Pasko ay Sumapit is usually at the top favorites to sing in a carol. This song is one of Lolo Pepe's most memorable songs. However, in an interview, Lolo Pepe admitted that the melody was not intended for a Christmas song, but for the 1938 movie about war called "Pugad ng Agila." It just so happened that the one who made the lyrics was his friend and National Artist for Music Levi Celerio.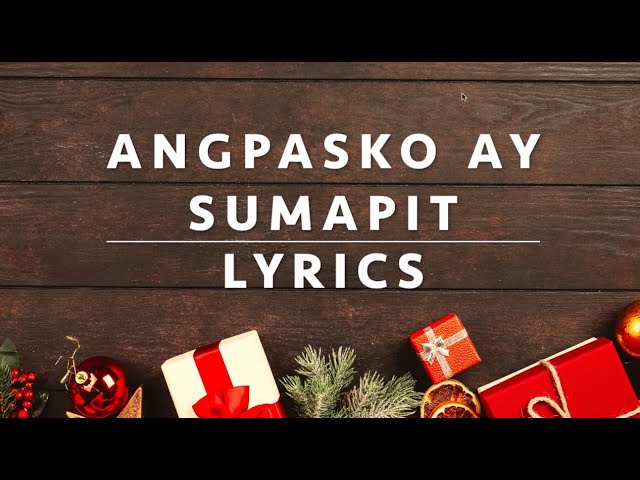 An article states that the original Ang Pasko ay Sumapit is a Cebuano Christmas carol sung in Bisayan lyrics, which is still the most famous carol in the region. It is called "Kasadya Ning Taknaa" that is composed and lyrics of Vicente Rubi and Mariano Vestil respectively, and also copyrighted in the same year through the aid of Manuel Velez from Sa Kabukiran Fame. 
Nonetheless, Ang Pasko ay Sumapit is a Christmas song that we can expect to be sung and heard for generations to come.
Are you one of those who loves receiving gifts? Then, our next song might be for you.
It's ironic that this song got into 9th place despite the fact that we tend to celebrate for over 4 months. Maybe Filipino composers and lyricists should make a Filipino version of this song entitled "130 Days of Christmas." This will for sure make the All Too Well 10-minute version look and seem so short. 
Kidding aside, 12 Days of Christmas in theology is the days between the birth of Christ and the coming of the three wise men or Magi. These are the dates from December 25 (Christmas) to January 6 (Epiphany or Three Kings' Day). As there are numerous arrangements, renditions, parodies, and changes from the original lyrics has been done and made throughout the years, there is also a lingering issue with respect to its meaning and purpose.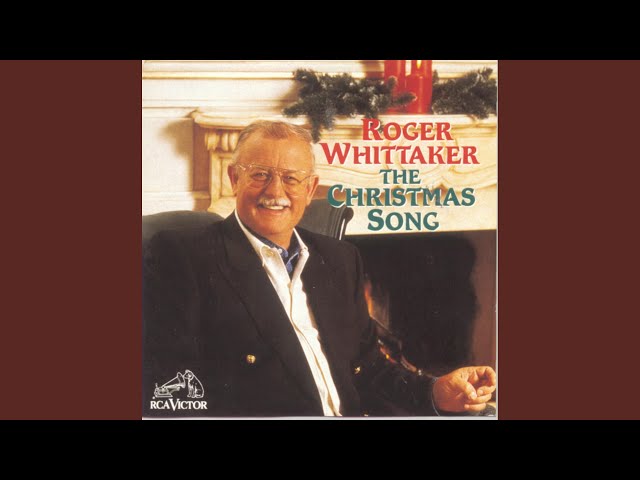 An article claims that the 12 Days of Christmas is a coded song of the Roman Catholics to secretly practice their faith between mid-1500s to early 1800s as they were banned by England to be open in their faith. The article claims that each gift in the song is represented by some religious relevance for the children to remember it better. However, according to Snopes, a fact-checking website, said that there is no document nor logical evidence that can support the claim. Many interpreters have tried explaining to prove the claim but they are beyond comprehension, especially for the children.
Anyhow, it still does not hinder us from enjoying the song as it is still one of the first Christmas songs that we learned. Also, we can make our own variation of this song. If only I were rich and if I had all the time in the world, I would give my crush a daily gift for our 130 Days of Christmas, just for her to notice me.
Christmas is all about joy and it is exactly what the next song is about.
Joy to the World is one of the most sung hymns in the world as a song in carols, simbang gabi or night masses, orchestras, and chorales. But, Joy to the World is actually a poem and not intended to be a song. It is not also intended to be a Christmas song despite its reference and translation from the Old Testament. Additionally, it refers to the second coming of Christ instead of the first.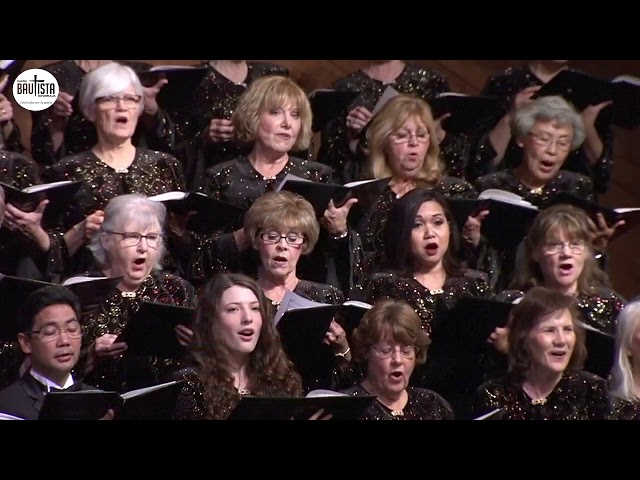 Joy to the World took its inspiration and paraphrased Psalm 98, then adapted it into 2 parts. However, it is not only Isaac Watts' work alone. This song has 3 major contributors that led to what it is today. The other two are George Frederic Handel and Lowell Mason. The 2 have their own fragments and pieces of contributions and also borrowed something for their own arrangements that are sung in other parts of the world such as in North America. 
There is actually in fact a somewhat forgotten part of the song. There are some religious groups and organizations that remove or change the third stanza as it is based on Genesis and not from Psalm. Regardless of this issue, many still liked the version we sing today. Many artists around the world do their own renditions with their own musical genre and/or arrangement.
Be that as it may, the hymn tells us to look towards the future as it will surely be bright through God. It is fun when looking at the journey of the song, it originated as a poem inspired from the Old Testament, toned up musically in Europe, and then completed through the contributions across the United States of America. Ehem crushie, I can be the joy to your world too.
Going back to the Philippines, our country is full of shining-shimmering lights and decorations as I have mentioned in the introduction. This just might be the inspiration of our next song
Kumukutikutitap is the first Christmas song Mr. C originally composed. Ironic as it may be, the song has some sort of "fateful tragedy". In a report, the song was originally intended for the Bituin (The Star of Bethlehem) Musical by Jose Javier Reyes, but then used as an original piece of a choir participating in an annual national contest of a mini-musical. It was supposed to happen in December 1983, but the late Ninoy Aquino Jr. was killed in August of the same year, resulting in the cancellation of the event.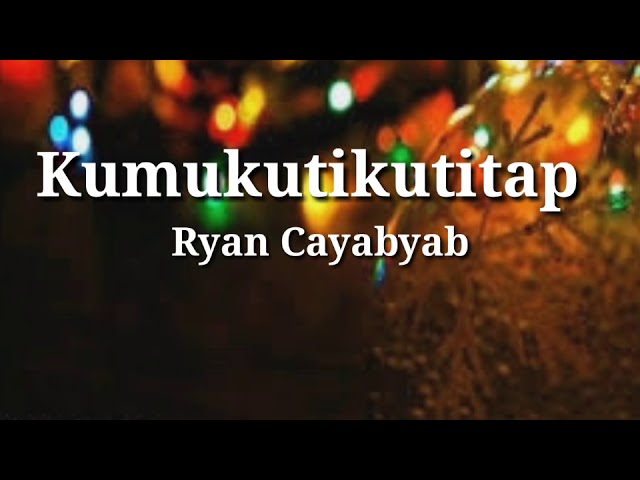 However, the cancellation of the event actually paved the way for the song to get known. He gave the song instead to the Singer's Foundation, a choir composed of huge OPM names such as the Apo Hiking Society and Rico Puno, to be sung in their fundraising activity through Christmas caroling. After the event, many choirs and musicians asked for the arrangement that further boosted its popularity. However, for Mr. C, it was the 80s recording artist Joey Albert who really popularized the song by much after she included the song to her album with the permission of the latter. From there, numerous renditions and arrangements popularized, one of which is Ryan Cayabyab's acapella version in 2005 with San Miguel Philharmonic Orchestra and San Miguel Master Chorale, for his own album called "One Christmas."
Mr. C's eyes must be shining, shimmering, splendid when this song popularized and is still being sung today. I'm not as cool as Mr. C, but my eyes do shine and shimmer too! But only when I see my crush! You may check her profile here.
Moving on, the next song is probably the most famous song right now in the Philippines. What do you think it is? I think you already expect that it is in the list but not at this place.
WHAT THE FISH??? Are you surprised? Yes, I am. I, the author, was actually surprised that it only came out as our 6th favorite song. Like, 'Come on now my fellow editorial board members. I know we can do better than this! Shake our Filipino Christmas Spirit and the Memer Spirit right now.' Just kidding. We did an impartial system to decide for this list.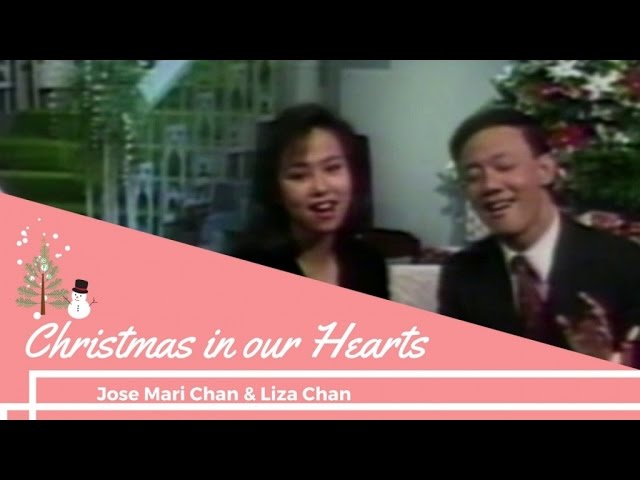 This song is no-doubt the most hyped song in the social media in the Philippines. Regardless of the date, it will randomly pop-up to your news feed with a countdown and the face of the legendary Mr. Christmas peeking on the side of your screen. This is literally the image that I first thought of when I wrote "Wherever I go, I see you" in the introductory paragraph.
Looking at the statistics, this song is the biggest-selling album in the Philippines to date, followed by Constant Change by none other than Jose Mari "Jomari" Chan, both albums selling over 800,000 copies each. It was released by Universal Records in November of 1990. In 2006, it already garnered 600,000 sold copies, receiving a Double Diamond from the Philippine Association of Records Industry or PARI. This is Jose Marie Chan's first Christmas album and seventh album of his studio career, and also the first OPM album to receive an award surpassing Diamond certification. The title track is named the same with the first single of the album. Indeed, he's the Father of Christmas Songs.
Christmas in Our Hearts came from Ang Tubig ay Buhay. It is a song that is penned as a poem by Chari Cruz-Zarate, then asked Jomari to put a melody on it for her to perform the song in the Silver Jubilee of Assumption High School Class of 1963.
A couple of years later, he released the album Constant Change. Then, the former head of Universal Records, the late Belle Dy Tan, called him to suggest to him to release his own Christmas Album composed of his favorite Christmas Songs along with an original composition. JMC agreed and worked on the song using the melody of Ang Tubig ay Buhay in collaboration with Rina Cañiza, a budding songwriter who knocked on the window of his car after a Sunday mass.
After finishing the song, JMC thought of a perfect duet for the song. Lea Salonga, her first choice due to her successful Miss Saigon, agreed to duet with him but Lea's recording company did not agree for her to cross label. He then went to contact Monique Wilson, a theater actress, who agreed but lost her voice after having a trip to Tagaytay the day before their record. JMC then went to Liza Chan, her 19 year-old daughter, who was cramming for her exams. Liza still accepted the offer despite knowing that the record will happen tomorrow given that she is cramming.
What a heartwarming story. Many obstacles occurred along the way but it still ended up successful, and even set history.
Christmas in Our Hearts' fame has also traveled overseas. The song got noticed by the world, even the big names abroad, after Pentatonix collaborated with Lea Salonga and released their own arrangement of Christmas in Our Hearts.
Our next song will surely bring back some memories; the Christmas spirit that we felt as a kid.
In the context of Filipino culture, aside from our iconic pagmamano, at the top of the list is being family-oriented. It is very well known globally, partially because it is a stereotype to an Asian family. But, this trait has been very natural and evident in the Filipino culture. However, this is not always true and real for everyone. Throughout the time, we will find our family incomplete at some point in our life; someone is working abroad, someone passed away, or we cut ties and part ways from people regardless of favoring it or not—it just feels sad, sometimes alone. We end up realizing that the people who are not with us left a huge hole in our life that we cannot ever replace or fill. And in usual circumstances, there are things that we cannot do anymore or it feels harder to achieve without their physical presence. And this song is what it is pertaining to.
Sa Araw ng Pasko is the first track of the first Christmas Album and compilation, which was named the same as the first track, recorded and released by ABS-CBN in 1998, under the name of the company-owned recording company Star Records, which is a member of the PARI. The song is composed by Vehnee Saturno, arranged by Dennis Quila, and sung by the ABS-CBN All Star Cast.
The song emphasizes how a Filipino badly wants to celebrate with their loved ones. No matter where they are and what they are doing, a Filipino will still find a way to feel the Philippine Christmas spirit that our heart always longed for. 
I have mentioned in the introductory paragraph, the Philippine Christmas is different from the entire world. In short, unique and one of a kind. Citing a phrase in the song,
"Sa ibang bansa'y 'di mo makikita
Ang ngiti sa labi ng bawat isa
Alam naming hindi n'yo nais malayo
Paskong Pinoy pa rin sa ating puso"
Let's all wish and hope that one day, hopefully everyday, every Christmas, we will be able to celebrate it all with the people we want to spend our days, months, and years with, as the next song might let you want to travel somewhere to the North Pole with the people you love. 
Is there anybody who doesn't want to meet Rudolph? Is there anybody who doesn't like the Red-Nosed Reindeer? None right? Everybody loves that adorable one, well, aside from his herdmates who used to exclude him until he proved his worth. Poor Rudolph :((( That's the reason why I thought that this song is more than just a holiday song.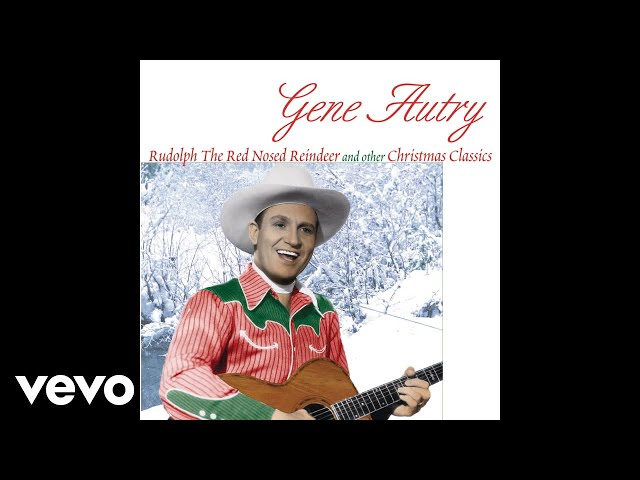 I think that this song is also a representation of reality. When someone new who is odd-looking, has a different personality, way of living, or simply seemingly out-of-place, people tend to exclude them or call them out. It could either be that person will be zoned out even more, or make it as an inspiration to prove them wrong. Rudolph is the second one. Despite being laughed at all the time and calling him names, he patiently waited for the right time where he could showcase his real worth, with the help of course of Santa seeing Rudolph's potential and utilizing his abilities. 
According to a documentary, Rudolph the Red-Nosed Reindeer is actually a 1939 book by Robert "Bob" L. May, who works as a copywriter at the advertisement department of Montgomery Ward. 
Montgomery Ward is a department store chain, which trails behind Sears as the America's largest retailer, that purchases books to give away during the Christmas season. However, the management of the department store chain chose a bold move to create their own book that year.
Later that year, May's wife Evelyn lost to cancer as he was in debt and struggling to support his family and the medical needs of her wife with only $5,000 yearly salary or about $105,191 in 2022, leaving their only child Barbara who was only 4 years old at that time to Bob. He refused the suggestion of his employer to quit on his book and gave his trust to Rudolph. This came true as it became an instant favorite when it was released on Christmas of the same year by giving away around 2.4 million copies. It was discontinued for sometime due to restrictions on publications during the war, but returned in 1946 as a bigger hit. While not receiving any additional salary despite the success of his book, it changed in the next year when Sewell Avery, the head of the management of Montgomery Ward, decided to transfer to Bob the entire rights of his book, making it the first time the management has ever done it. 
Johnny Marks, Bob's brother in law from his sister Margareth, is a songwriter. He liked the concept of the book and decided to put it as a song. The introduction of the song where the 8 reindeers are introduced are just an addition to the song after gaining an inspiration from a poem called "A Visit from Saint Nicholas."
The song debuted first live in November 1949 on the New York Radio (WOR) by a crooner named Harry Branon. Gene Autry recorded it on June 27, 1949 as a children's record under the contract of Columbia Records, releasing it by September of the same year. Just two months later, Columbia Records made the effort of putting it into the pop music market until it hit the top spot by the Christmas of 1949.
After that, many versions were popularized, some are far from the original of Autry. A stop-motion movie was also created by Rankin/Bass Productions in 1964.
I would like to have a sleigh ride too with Rudolph leading the herd, but I want to do it while holding hands with crushie!!
That one was quite an overwhelming story, wasn't it? But will #3 be an even or more overwhelming one?
This song, "Bro, Ikaw ang Star ng Pasko" or simply "Star ng Pasko" was released on the 4th of November 2009. Star ng Pasko is penned by Robert G. Labayen and musicality of Marcus Davis Jr. and Amber Davis. The song is originally called "Dumadaloy ang Liwanag" in dedication to the unity Filipinos show at all times and the hope for better and brighter days ahead. However, Typhoons Ondoy and Pepeng struck the Philippines at the time the lyrics is being written, ending up that the song was revised and rewritten to also commemorate thankfulness to Christ and the strength of the people to be resilient, especially Philippines, which is very prone to natural disasters, primarily earthquakes and typhoons.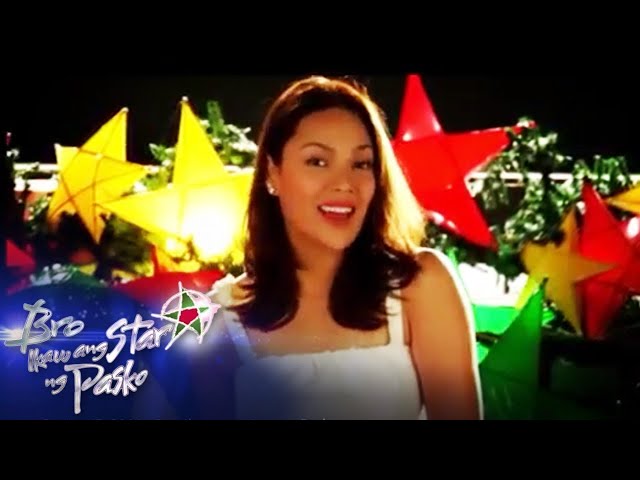 The song is the biggest production for a Christmas ID sung by about 300 individuals, 200 of them are the personalities of ABS-CBN, including big time singers and performers such as Sarah Geronimo, KC Conception, Billy Crawford, and Aiza Seguerra. It is also the last appearance of the King of Comedy, Dolphy, in an ABS-CBN Station ID. The filming itself lasted for around a week. The production is also big in terms of legacy as it uses some melodic lines and tunes from its predecessors; "Isang Pamilya, Isang Puso, Ngayong Pasko" (2002), "Sabay Tayo, Kapamilya" (2004), and "Walang Magiisa Ngayong Pasko" (2007). This is also the first application of contemporary R&B in a Christmas station ID. Being considered as the most popular Christmas production of ABS-CBN Station IDs, the song received a Silver Award as the Best Media Initiated Campaign during the 4th Tambuli Awards and was also nominated as the Best Christmas Recording in 2010 Awit Awards. 
This song will remain as one of the top Christmas hits in the Philippines for years to come.
From an ABS-CBN Christmas Station ID to another, the next song will make you thank other people for the love they give you.
Who would not like to see our favorite loveteams on the same screen and frame? It is rare for us to see them doing the same production. Adding to them are the vocal firepowers of Bamboo and The Voice Kids 2015 Champion Ella Nympha.
This song honors the love that we receive from other people, especially our family, relatives, significant others, and friends. Christmas is more than just gift-giving. It is also about spending time with our loved ones and appreciation for all of their efforts and sacrifices for us.
Poor you. You can't say thank you for the love because you don't have a love life. That's so sad :(( Just kidding. Try sending it to your crush or sing it to them, maybe you'll gain a new good friend. Just kidding again! I'm just running out of thoughts.
Anyways, before we proceed on our valedictorian, let us first see our five honorable mentions.
HM#5. Away in a Manger by Nat King Cole – Pentatonix Cover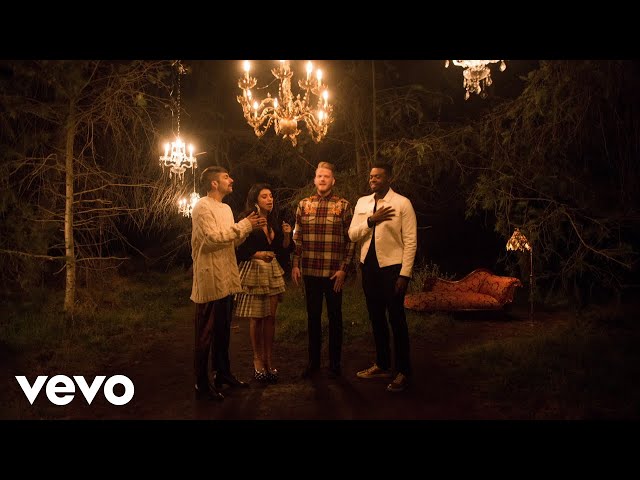 Away in a Manger is one of the iconic Pentatonix covers. Aside from their wonderful voices and arrangement, the story and the music video somewhat hurts for their fans. This is their first Christmas song without their basso-profundo bass singer Avi Kaplan. Kaplan is the original bass singer of the group ever since its formation in 2011 for The Sing-Offs Season 3 left the group as he cannot keep up with the demand for practicing, tours, and concerts, dealing with the distance from his family and missing their own events. 
Despite this, their superb arrangement and vocal harmonies made it up for their missing bass. Also, who would've thought that you can see luxurious chandeliers and furniture, and a huge bathtub in the middle of a forest? And dayuumm, Kirstin's earrings are bigger than my future!
ARE YOU EXCITED FOR THE NEXT ONE ALREADY? EVERYBODY SAY, "IBIGAY MO NA, ANG AMING…"
HM#4. Christmas Bonus by Aegis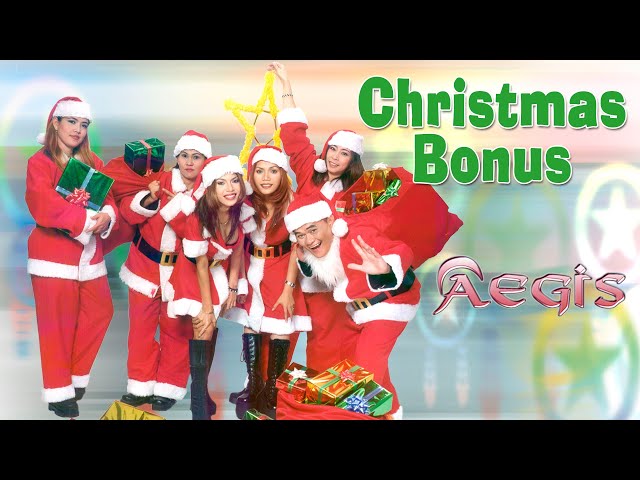 The most anticipated and exciting part of working is receiving the Christmas bonus. The song is only one of the 10 tracks of original tunes of Aegis in their Paskung Pasko album in 2000. Aegis themselves did not expect for the Christmas Bonus to be a huge hit, even making it as the face of the album. The group only wanted to give Christmas songs that are lively and cheerful intended to the hardworking employees, where nearly everybody relates to. 
That's why, try to be good to your employers, then say "Ehem maam/sir" for a bigger bonus. Or maybe you can sing and dance this in front of your employers with your workmates? Will it work? I don't know, I am not yet working. Just try it at your own risk. Lastly, don't blame me if you got fired.
Back to acapella music, the third honorable mention is the only one comparable to our number 1 song among the list, in terms of Youtube views and Spotify Streams.
HM#3. Hallelujah by Leonard Cohen – Pentatonix Cover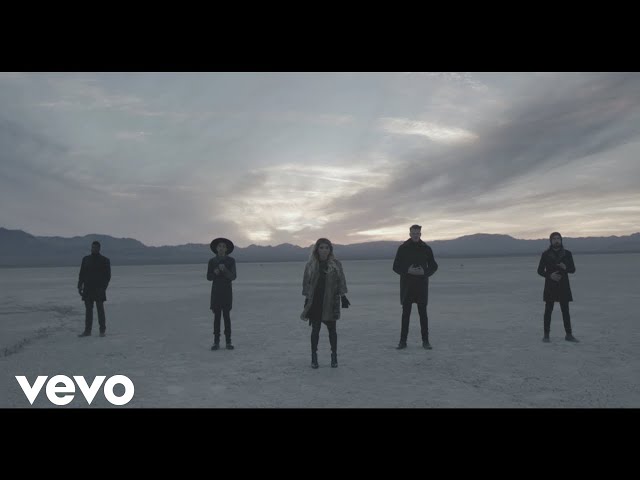 The 3-time Grammy Awards winning acapella group and the recently Hollywood Walk of Fame inductee Pentatonix' cover of Hallelujah is currently 717 million views on Youtube and almost 367 million streams on Spotify. It is their most viewed and streamed on both platforms. Their spine-chilling harmonies and vocal arrangement revolutionized the world of acapella.
HM#2. Deck the Halls by Thomas Oliphant
This song is originally a Welsh melody from the 16th century and from a winter carol in 1794 known as Nos Galan (New Year's Eve)— Follow me in merry measure as we jump to our next holiday song, Deck the Halls. 
It was written in English by Thomas Oliphant in 1862, who is a Scottish musician. There are 4 volumes of this song with numerous variations, depending on the location.
HM#1. We Wish You A Merry Christmas by John Denver and The Muppets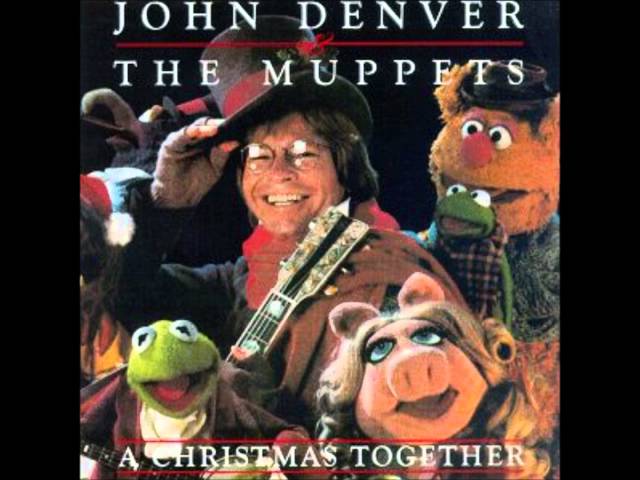 This song is one of the most popular songs children tend to sing in carols. The history of this song is unknown. But the most popular one is arranged in English West Country. It was done by Arthur Warrell in Bristol, who is a conductor, composer, and an organist. He is also a lecturer at University of Bristol, who he made the arrangement for which is the University of Bristol Madrigal Singers for a concert in December 1935, which was later on published by Oxford University Press in the same year. 
We wish you a merry Christmas, but your Christmas will be merrier if you have a love life. Too bad again, you don't have one.
Anyways, WHO'S READY FOR THE TOP SPOT? No more segways, let's jump into it.
Yes! Finally! You can really say this to your crush hoping not to end up as friends only.
Kidding aside, this song is the top viewed and streamed Christmas song in Youtube and Spotify respectively. Hmm, maybe many tried to use this song to confess to their significant others. Another kidding aside, Mariah Carey is probably the only one who can rival our very own Jose Mari Chan in Christmas songs (aside from Pentatonix according to the personal bias of one of our editorial board members) (it is not me) (probably).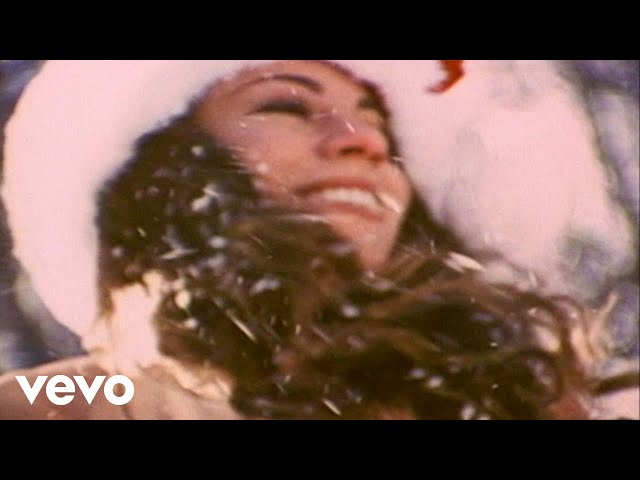 All I Want For Christmas Is You is the 4th studio album and 1st holiday album of Mariah Carey. After her successful album in 1993 called Music Box, Mariah and Columbia Records brainstormed for ideas, until Tommy Mottola, her husband at that time, suggested that she should release a Christmas album. Mariah and her team had worries that it is not a good idea which might hold back and drag down the career of the singer. Later on, with the help of her partner in songwriting, Walter Afanasieff, it only took 15 minutes to compose the song. WHO CAN DO THAT? NO HUMAN CAN DO THAT. Those who can do that are extraterrestrial beings, such as the duo of Mariah and Walter and Ben Folds.
In statistics, the song placed the top spot of charts in over 25 countries. It also placed 1st in the US Billboard Hot 100 in 2019. Even after decades of its release, it is still breaking records. It is the first Christmas song to hit the 2 million mark of digital sales. Recording Industry Association of America (RIAA) certified them a 12x Platinum certification that means they reached the 12 million mark in copies of the single in the United States.
The song is so unique it is composed of many styles and inspirations; Christmas, retro 60s, pop, R&B, and contemporary. No wonder it can be enjoyed regardless of age and music taste. The only people who cannot enjoy this song are the ones who got a new friend after confessing to their crush HAHAHAHAHA just kidding.
Christmas in the Philippines is different compared to the rest of the world. From the length of our celebration, establishments full of decorations, various music with different stories, families and individuals with different situations. But above all and despite the differences, we all have the same goal. To be with our loved ones and to be happy on Christmas day.
Christmas songs are a huge part of our culture. It sets our soul and spirit that w̶i̶n̶t̶e̶r̶ Christmas is coming; there would be gift-giving, reunion, Misa de Galo, puto bumbong, shanghai, reheated spaghetti, 10 gallons of fruit salad, tubs aligned along the street for you to put some coins, and maybe a school project that you'll have to submit by January 2.