NEUTRAL GROUND | A sign at its gate declares Tibagan High School a peace zone. It is one of 14 public schools in Makati City now under the supervision of the Department of Education's Taguig-Pateros Division amid a word war between Taguig City Mayor Lani Cayetano (left), who visited Tibagan on Tuesday, Aug. 15, 2023, and Makati City Mayor Abby Binay.
MANILA, Philippines — A word war arising from the turf war between the cities of Taguig and Makati further heated up on Tuesday as Makati City administrator Claro Certeza said that Taguig officials must first secure a writ of execution from a lower court before they could implement the Supreme Court's 2021 decision transferring to their jurisdiction the 10 "Embo" barangays, including Bonifacio Global City.
Asked by reporters to comment, Taguig City Mayor Lani Cayetano said securing a writ of execution was unnecessary, calling Certeza's position a "delaying tactic" on the part of Makati.
In a statement, the Taguig Public Information Office (PIO) also claimed that in a dialogue last month, Makati Mayor Abby Binay demanded that Taguig reimburse or pay rent to the Makati City government for 14 public school buildings located in the 10 affected barangays — or else she would shut them down.
Certeza cited Supreme Court administrator Raul Villanueva who said in his Aug. 14 letter to a Makati judge that the high tribunal's decision on the Taguig-Makati land row "should be the subject of a writ of execution before the trial court of origin," or the Pasig City Regional Trial Court (RTC) which first handled the territorial dispute case in 1993.
"When the said writ has been implemented by the Department of the Interior and Local Government (DILG), then that is the reckoning period for the transfer of jurisdiction of cases emanating from the Fort Bonifacio Military Reservation … from Makati City to the City of Taguig," Villanueva told Executive Judge Gina Bibat-Palamos of the Makati City RTC Branch 64.
Certeza said that Palamos had forwarded the letter to him after he sought a clarification on the transfer of jurisdiction over pending court cases in the 10 affected barangays.
Villanueva's statement "has set a clear path forward, delineating the necessary steps that must be taken before any jurisdictional transfers can proceed," he added.
The Inquirer reached out to Interior Secretary Benhur Abalos to ask if the DILG had received a copy of such a writ and served it on both Taguig and Makati but he had yet to respond as of this writing.
Delaying tactic
Cayetano, for her part, stressed that securing a writ of execution was not necessary because as far as the 14 public schools in the 10 Embo barangays were concerned, the Department of Education (DepEd)-National Capital Region (NCR) had issued a memorandum instructing the schools division superintendents concerned to coordinate the transfer of jurisdiction from Makati to Taguig.
"Their intention really is to delay … we have already started the coordination with the DILG and the Department of Health. The writ of execution will only prolong the process," she told reporters on Tuesday.
In a statement, the Taguig PIO called on Certeza to stop sabotaging the transition process by spreading "fake news" as it denied his claim that the city government had rejected Binay's offer to continue providing free school supplies, shoes and uniforms to students in the 14 affected public schools.
"The belated announcement [from Certeza], made in time for the start of the academic year, is maliciously calculated to portray Taguig as an uncaring city," it said.
July 18 dialogue
According to the Taguig PIO, the offer was made by Binay during a dialogue on July 18 with Cayetano and DepEd officials, adding that Certeza was not present then.
It further claimed that Binay had demanded that Taguig reimburse Makati or pay rent for the school buildings or else, she would shut them down.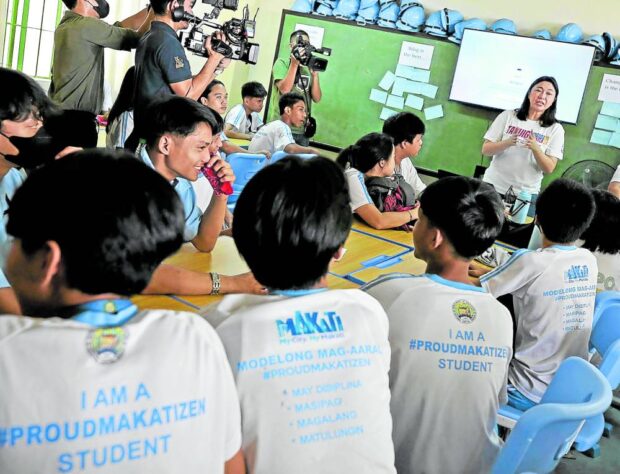 A NEW 'MAYORA' ON CAMPUS | Taguig City Mayor Lani Cayetano arrives for a "Brigada Eskwela" cleanup activity on Tuesday, Aug. 15, 2023, at Tibagan Elementary School, a campus in one of the 10 barangays transferred to her city's jurisdiction from neighboring Makati City under a Supreme Court ruling on their boundary dispute. The students' shirts, meanwhile, seem to show where their "pride" still lies. —RICHARD A. REYES
"That was the first and only matter she wanted to talk about during the meeting," it said, adding, "She was using the students as bargaining chips for her misguided cause."
Makati, the Taguig PIO said, also ignored the city government's request for data on the number of students per grade level, number of city-hired school employees, types of benefits given to students and teachers, and other relevant information.
"Despite the obstacles, delays, and difficulties thrown its way, Taguig is ready to extend to our new students in 'Embo' all the benefits that we presently give to our students—not just free school supplies, uniforms and shoes, but scholarships for all ranging from P15,000 to P110,000 for those taking vocational, two-year or four-year courses; those taking master's and doctorate degrees; and those reviewing for board and bar exams," it stressed.
Sara asked to step in
Binay, meanwhile, stressed in a TV interview that the 14 public schools were "100-percent funded" by Makati taxpayers, saying that based on their computation, the city spends around P200 million on the schools' security, closed-circuit TV cameras, building maintenance and other basic needs.
She appealed to Vice President and Education Secretary Sara Duterte to issue a clarification on the jurisdiction issue, noting that the DepEd memorandum being cited by Taguig City came only from the DepEd NCR director.
"Hopefully, they will come up with a DepEd order from the central office," Binay said.
—WITH A REPORT FROM DEXTER CABALZA
RELATED STORIES
Parents, kids caught up in Taguig-Makati row
Taguig vows to address apprehensions during transition of affected public schools
Taguig slams allegations that it rejected school supplies from Makati: 'False narrative'

Your subscription could not be saved. Please try again.


Your subscription has been successful.

Read Next
Subscribe to INQUIRER PLUS to get access to The Philippine Daily Inquirer & other 70+ titles, share up to 5 gadgets, listen to the news, download as early as 4am & share articles on social media. Call 896 6000.